The Welsh Wire: The Business Case for Child Care, Featuring Scott Nykaza and Kristyn Buhl-Lepisto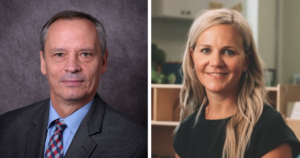 A leading West Michigan business is tackling the challenge of labor shortages by helping to solve one of employees' major frustrations: accessing affordable, quality child care.
Scott Nykaza, CEO of Kalsec, and Kristyn Buhl-Lepisto, Executive Director of Kalamazoo County Ready 4s (KC Ready 4s), were interviewed by Sheri Welsh for this month's The Welsh Wire podcast.
Nykaza says that Kalsec's onsite child care center means that, "For parents that work here, or employees that work here who don't have kids in the center, they're happy to see that their colleagues are taken care of—that they can work and concentrate on their job and not have to worry about their kids or leave early or miss time off because everybody works as a team.
"When their colleagues are taken care of, they know that they're benefiting from that as well. So retention and recruiting are really big parts of the happiness we see from having such a program," Nykaza explained.
A statewide program called Tri-Share provides support for companies looking to develop child care support options for their workers.
"The cost of the child care is shared between the family, the employer and the state, so each pay is a third," says Buhl-Lepisto. "It's a huge help to families and parents."
Kalsec is the leading global producer of natural taste and sensory solutions, colors, food protection, and advanced hop products for the food and beverage industry. The mission of KC Ready 4s is to advance fully accessible, high-quality pre-kindergarten education for every 3 and 4-year-old in Kalamazoo County through collaborative leadership with public and private providers.
Listen to The Welsh Wire podcast featuring Scott Nykaza and Kristyn Buhl-Lepisto to learn more about tackling the challenge of labor shortages through access to affordable child care.
Addtional resources:
Child Care Resources
Marshall Plan for Moms Child Care Report
The Employer Childcare Menu
Subscribe to The Welsh Wire podcast on iTunes for additional informative, entertaining interviews with West Michigan business leaders.