The Welsh Wire: Workplace Evolution with Wightman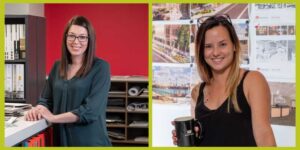 Today's workplaces are much different than they were just a few years ago. We discuss this in detail with our friends from Wightman, which is an architecture, civil engineering, and surveying firm with offices across Michigan trickling into Indiana.
"Pre-Covid-19, the trend was moving toward an open office environment, removing the barriers, removing the walls, and really opening up the space to a lot of shared workspaces," says Wightman Senior Interior Designer Casey Bourdo. "Then, of course, Covid-19 hit and everybody went home overnight."
Bourdo and her colleague, Stefany Holland, who serves as Wightman's Commercial Sector Leader, talked with Sheri Welsh on The Welsh Wire podcast about workplace evolution trends as employees return to on-site work.
"The post-pandemic culture seems to be a huge topic of conversation with many of our partners. It's not just, 'How do I fit more people in a building?' but rather, 'How do we shift the culture?" Holland explains. "Businesses want certain types of work environments for different reasons. Maybe they're doing a different type of work; maybe they're delivering things differently; or maybe they're trying to get more recruits and currently aren't attractive to new hires."
One recent workplace trend is to install more wheeled furniture to facilitate space flexibility and collaboration. It's more than just moving desks and chairs around though – it's also providing the communications technology that encourages employees to get up and interact, cooperate, and innovate.
"If you can hit those things, and your corporate culture supports all of that, you will have an amazing workspace. Your staff and potential new hires, they're really going to enjoy coming to work," Holland says.
Listen here to learn more about workplace evolution from Bourdo's and Holland's talk with Sheri Welsh on The Welsh Wire podcast. Subscribe to the Welsh Wire on iTunes for additional informative, entertaining interviews with west Michigan business leaders.