The Welsh Wire: Throwback Thursday Business Insights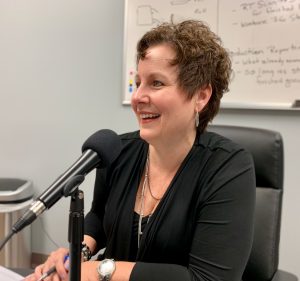 In this "Throwback Thursday" edition of The Welsh Wire podcast, Sheri Welsh revisits three of the top five most listened to podcasts of 2019. Local business leaders share key success lessons that can be applied to your own organization.
Listen to Throwback Thursday Business Insights.
Sheri talks with Kevin Murphy, the president and co-owner of Miniature Custom Manufacturing in Vicksburg, to learn more about his workforce success formula.
"From a leadership [standpoint], I'd say that my style is teaching and development in the moment," Murphy said. "And I've tried to emulate that with our staff. And we work very hard on don't tell someone to do something, teach them."
Also featured on the program are Jennifer Swan and Carrie Hoch-Mortlock of TowerPinkster. They talk to Sheri about their innovative company culture and their partnership with the Kalamazoo Communities in Schools program.
"We actively support the communities in which we live, work and play," said Hoch-Mortlock. "And so as a company, we feel it really is our responsibility to our staff to expose them to what community opportunities exist out there, kind of what that looks like and feels like. And so anything from industry events, to just supporting the local nonprofit organizations, we really just try to get our folks out there and really experience what it's all about."
Sheri also has a conversation with John Barry, president of Schupan Aluminum & Plastic Sales, a division of Schupan & Sons, to learn more about their partnership with Fabri-Kal to operate the the Schupan & Fabri-Kal Employee Health Center in partnership with Marathon Health.
"The nice thing about the clinic is that it's open to any Schupan employee and their family as long as they're on our health care plan," Barry said. "We're open a number of different hours just to make sure that we can service our off shifts. But the real goal was to provide better care to our employees."
Subscribe to The Welsh Wire podcast on iTunes for additional informative, entertaining interviews with West Michigan business leaders.