The Welsh Wire: Best of 2021 Business Management Insights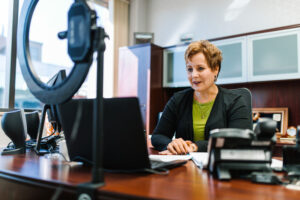 This week's The Welsh Wire podcast showcases some of the best business management insights gleaned from Sheri Welsh's interviews in 2021 with West Michigan business leaders.
Amy Ritsema, co-owner of Grand Rapids-based OnSite Wellness, explained that employees who work in a company culture where they feel cared for are more apt to stay and be engaged in their jobs. Workplace well-being includes flexible work schedules and perks like student loan repayments and identity theft protection.
"A lot of times when we talk wellness, people are thinking, oh, we're gonna do a water challenge, we're gonna do a steps challenge. And those are all great," Ritsema said. "We really want people to practice those healthy habits, they're fun, they can be a rewarding thing to do as an organization, we can have fun competitions that promote good camaraderie, but you have to think bigger picture."
Culture is also important to Stacy Paul, CEO of Array of Engineers, a certified women-owned small business in Grand Rapids and a member of the Michigan 50 Companies to Watch. She said they recruit talent to fit the firm's core values.
"Promotion of innovation and creativity, not ever wanting to put somebody in a box, allowing them to expand and be super creative, no matter what the task is," Paul said. "And that goes along with helping each employee reach their highest potential."
In cooperation with the Family Business Alliance, Welsh interviewed a variety of experts to get their advice on "rightsizing risk." Kristen Spence, Fraud & Litigation Manager for Hungerford Nichols CPAs + Advisors, and Katy Felver, Business Advisor for Hungerford Nichols CPAs + Advisors, talked about fraud prevention. One of the simplest steps to take is regularly checking your bank statements.
"I know that those of you that are business owners may think, oh, I don't have time, I have people to do this for me, but I will tell you, you will catch a lot of things if you periodically run and check the bank statement, just scroll through and see what a few things are," said Spence.
Spence and Felver also discussed how to spot red flag warnings in your payroll operations, securely manage your manufacturing inventory and reduce risk by implementing proper internal controls.
John Ruther, managing director for consulting firm O'Keefe, told Welsh that business owners can rightsize their risk and improve opportunities for future growth by tightening financials and making sure they have good financial management. Ultimately, the goal of good financial management is to create value for the future, Ruther said.
"Making sure that somebody can see three to five years of really good solid financials, that you can't poke holes in, it turns out to be really valuable."
It's important to think about how a divorce might affect your family-owned business. Pre-nups and other legal preparations are a crucial part of rightsizing your risk, according to Paul McCarthy, attorney with Rhoades McKee in Grand Rapids.
McCarthy explained, "If the probability of a divorce is 50/50, for any given couple in the country, and of course, everyone thinks, well, that's not going to be me but statistically speaking, if you have four shareholders and a family held company, you're going to experience a divorce. The chances aren't just more likely than not, it is vastly probable."
Listen to this week's podcast to hear more of 2021's best business management advice.
Subscribe to The Welsh Wire podcast on iTunes for additional informative, entertaining interviews with West Michigan business leaders.