The Welsh Wire: Nathan Baar of HealthBar Shaking Up the West Michigan Wellness Industry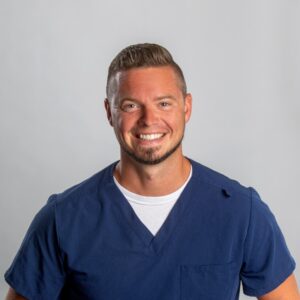 Nathan Baar, founder/CEO of HealthBar, is striving to shake up the West Michigan wellness industry with nurse-led, on-demand, accessible and customizable healthcare services. HealthBar was recently recognized as a member of the Michigan 50 Companies to Watch for 2022.
"What we're trying to do is mobilize and really make available nurses within the communities that we live in, in businesses and schools and out and about where people are, where our patients are," Baar tells Sheri Welsh on The Welsh Wire podcast.
"It's this idea of saying, healthcare is consolidating into these large, mega structures that are intimidating and hard to access and becoming more and more expensive," Baar explained. "And we're saying how do we kind of break that mold–almost getting back to the days of when you had your doc going to your house to check up on you and to see you. And we want to do that again, but through the nursing profession."
Baar discussed how he was motivated to start HealthBar by his experiences as a leader in hospital ER nursing environments, where he saw the positive impact that nurses can have in proactively managing health issues.
HealthBar, launched in 2020, is Baar's first experience as a business owner.
"It's very difficult. And I think, you know, for those who want to be entrepreneurs, there's a certain grittiness that you just have to have to dig down and get through some of those tough times. Looking over these two years, we have been very successful, and we built some amazing programs."
Listen to this week's podcast to hear more from Baar about HealthBar and its healthcare services.
Subscribe to The Welsh Wire podcast on iTunes for additional informative, entertaining interviews with West Michigan business leaders.