The Welsh Wire: How Employment Contracts are Shaping Company Recruitment, featuring Attorneys Jordan Held and Mariah Natzke with Kreis Enderle in Kalamazoo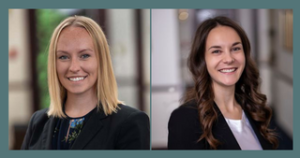 Many companies are considering the use of employment contracts not just for executive senior level hires, but for-mid level talent managers and leaders as well. Sheri Welsh explores the use of employment contracts as an employee attraction and retention tool when she talks with Jordan Held and Mariah Natzke, Attorneys with Kreis Enderle in Kalamazoo.
"There's a lot of litigation that goes on with employment agreements and employment contracts, so talking with your attorney or getting another set of eyes on what your agreement says is always the best option," says Held.
Two potential problem areas include wrongful discharge and the oral representations or misrepresentations that are made to employees. "The biggest cause of litigation, usually, is the employee was told they won't be fired for some reason, or they won't be fired at all," says Natzke. "And those oral presumptions can create an expectation for the employee. So, I think the biggest thing is keeping really clear contracts."
Employment contracts that include non-compete provisions that protect company confidentiality and trade secrets are still permitted in Michigan, if they are not overly broad in the eyes of the courts. But the Federal Trade Commission has proposed a new rule that would effectively ban the use of non-compete agreements nationwide. "The claim is that it's going to help workers have more flexibility and have a more fair method of competition in the market," says Natzke.
The comment period for the proposed rule is open through March 20. "So, get any of your comments and let them know the effect that it will have on your business and where you think this proposed rule would take you and your employees," Held says.
Leave a comment on the proposed rule.
Listen to The Welsh Wire podcast featuring Jordan Held and Mariah Natzke in its entirety. Subscribe to The Welsh Wire on iTunes for additional informative, entertaining interviews with west Michigan business leaders.