The Welsh Wire: The Regenerative Power of American Family Businesses, featuring Chandresh Baid and Ana Gonzalez of Grand Valley State University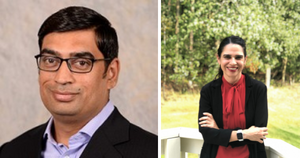 A new Grand Valley State University (GVSU) survey takes a look at the post-pandemic regenerative power of American family businesses and zeros in on the valuable leadership styles most commonly found in those firms.
Sheri Welsh talks about the survey results on The Welsh Wire with the study authors Chandresh Baid, Assistant Professor of Management at GVSU's Seidman College of Business; and Ana Gonzalez, Director of the Family-Owned Business Institute, Seidman College of Business.
"Our survey results suggest that family business leaders in the USA greatly exhibit transformational leadership characteristics," says Baid. "[These leaders] are good role models for others to follow and also foster collaborations in their organization. From the research perspective, this is also the leadership style that correlates positively with performance, entrepreneurial orientation, and also the general business regenerative power."
But many family business leaders, whether their leadership style is transformational, authoritarian, or charismatic, also tend to lean toward paternalistic behavior, notes Gonzalez.
"Family businesses are characterized to have this hands-on approach, so they are on top of things when it comes to their employees. At the same time, they have very close relationships with their customers," Gonzalez says. "The thing is, as customers grow or business grows, this approach–even though it's very positive–cannot be sustainable because you're going to bring more employees, you're going to have more customers, so you cannot deliver the same thing. So, the paternalistic approach needs to be revisited."
The report also includes insights on the nature of innovation in family businesses. "Of respondents, 74% said that their leaders favor a strong emphasis on R&D, technological leadership, and innovation," Baid says. "However, only 42% of the respondents agreed that the changes in products or service lines have usually been quite dramatic. So, if I combined these two responses together, then what I believe is that family businesses, they emphasize innovation, but they tend to emphasize incremental over radical innovation."
Baid advises family business owners to "make small investments now, so that when the market changes, they are not caught behind."
Download the entire study report at www.gvsu.edu/fobi.
Listen to The Welsh Wire podcast featuring Chandresh Baid and Ana Gonzalez in its entirety.
Subscribe to The Welsh Wire podcast on iTunes for additional informative, entertaining interviews with West Michigan business leaders.