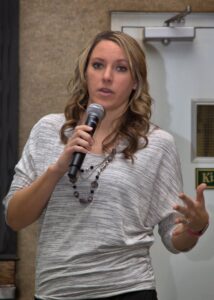 The Welsh Wire: Talent Talks with Ashley Iovieno of Michigan Works! Southwest
Struggling against the headwind of a steadily shrinking workforce, small business owners across West Michigan continue to find it difficult to get good, talented workers. But Ashley Iovieno, Business Services Manager for Michigan Works! Southwest at the W.E. Upjohn Institute, says there are some effective strategies that entrepreneurs can use to snag the employees they need. She talked recently with Sheri Welsh for The Welsh Wire podcast about talent acquisition and the tools that Michigan Works! has available to assist businesses in filling their workforce needs.
Iovieno says it's important to implement outreach to the places that potential workers may be found.
"Think about even your marketing strategy—where are people going? Grocery stores, Lowe's, Menards, places like that? Is there a way to advertise there to get your openings in front of people? What other word of mouth things are you doing?
"One thing I did see that was kind of unique that McDonald's was doing, everybody that got a receipt had this little piece of paper that was attached to it that had their openings and their opportunities and said apply now. And that type of method can be applied across several different industries. It's really just creative strategies to continue to keep in front of people so that folks know that you're out there and you're hiring."
Iovieno warns however that efforts to fill job openings should not detract from initiatives that help you keep the workers you already have.
"The biggest thing that we've seen is making people feel valued and that they're important and they're part of the team," she said. "The Michigan Works! Employer Resource Network is one opportunity that we have that really focuses on the workforce once they're employed through employee support and training."
Learn more techniques that help you address the talent shortage and retain your current workers by listening to this week's The Welsh Wire podcast with Ashley Iovieno.
Subscribe to The Welsh Wire podcast on iTunes for additional informative, entertaining interviews with West Michigan business leaders.