The Welsh Wire: Steve Owens of Consumer Credit Union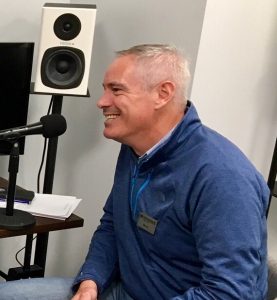 Do you have a strategic plan? Of course you do! What business doesn't at least profess to have a strategic plan to help guide them to future success? And yet, what good is a strategic plan if it's done once and then sits gathering dust on a shelf?
"Strategic planning is not an event, it's dynamic, it's alive," says Steve Owens, chief lending officer for Consumer Credit Union in Kalamazoo. He recently talked with Sheri Welsh for The Welsh Wire podcast. "In order for [the strategic plan] to be nimble, it has to be visited, worked at constantly."
Consumers Credit Union must be doing something right with their strategic planning, because it has grown to a hundred thousand members and billion dollars in assets since its founding in 1951. "I think one of the interesting ways that we structure our strategic plan, in the planning around it, is it's a broad based team of leadership that's involved and we really try to get to placing strategic emphasis on areas outside of our core," he says.
In practice, that means existing Consumers Credit Union products being introduced to new markets or new products being introduced to to existing markets. "Our vision will change with the strategic planning process, typically once every three to five years," Owens says. "But you know,  you have your values and they can't be compromised, so the these initiatives do feed strategic fulfillment of the vision."
Owens says Consumers Credit Union likes to try small scale tests of new products and markets before rolling them out on a larger scale. "[You can't] completely shift the emphasis of the entire organization overnight, right? Nobody's that nimble. But if you're not testing and learning along the way, you're not going to it. [Your]core won't grow and parts of it'll die. And you'll end up shrinking."
Learn more about how to keep your business planning nimble by listening to Sheri Welsh's entire The Welsh Wire podcast interview with Steve Owens of Consumers Credit Union.
Listen to Sheri's entire interview with Steve Owens.
Subscribe to The Welsh Wire podcast on iTunes for additional informative, entertaining interviews with west Michigan business leaders.