The Welsh Wire: Revitalizing Downtown Kalamazoo with Treystar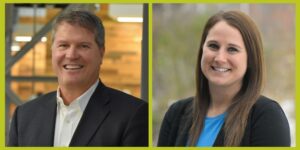 Treystar, a local real estate development company, is playing a role in revitalizing downtown Kalamazoo by contributing $2 million toward renovating its Main Street East building.
In a discussion on The Welsh Wire, Sheri Welsh speaks with Fritz Brown, a partner at Treystar, and Rachel Krasinski, its director of operations, shedding light on their latest project, The Desenberg—downtown Kalamazoo's newest wedding and event center.
Brown says the project is important to the future economic development of the region.
"How do we keep the young adults that we educate here in Kalamazoo? How do we keep them gainfully employed? What will drive these people to stay in Kalamazoo, instead of going to Chicago, Detroit, New York, or California? That's really what we're working on first of all—building a downtown and creating spaces," he explains.
"The Main Street East building was originally constructed in 1886 but is being updated with 21st-century technology," says Krasinski.
"We have a very large glass wall that's been installed," she states. "The best way that I can describe how big it is and get people to visualize it is referencing Shaquille O'Neal. Shaq, he's like seven feet tall. It's one and a half Shaqs tall and three Shaqs wide. The wall can be used for everything from a whiteboard to media presentations to really cool visual designs. It can even be used for all three at the same time, because you can use it in different chunks."
Krasinski explains that The Desenberg is a great place for client presentations as well as conferences that are coming to the hotels but desire a breakout location for meetings.
The Desenberg is expected to open this fall.
Learn more from Fritz Brown and Rachel Krasinski's talk with Sheri Welsh on this month's The Welsh Wire podcast. Be sure to subscribe to The Welsh Wire on iTunes for additional informative, entertaining interviews with west Michigan business leaders.