The Welsh Wire: Heather Isch of LKF Marketing and Elizabeth Wright of 633 Group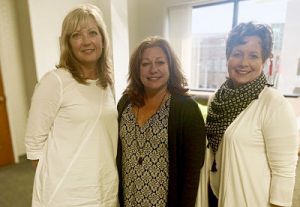 When the 633 Group decided to go through a redefinition of their core values and culture and a major rebranding, they found a trusted partner in Kalamazoo's LKF Marketing. Their collaboration resulted in a 2018 Silver Davey Award for Integrated Campaign — Business to Business.
"The results were extremely effective," says Elizabeth Wright, Integrator for 633 Group. "[LKF] were great to work with, spoke a similar language, and that was really fun."
A high level of trust is crucial for successfully navigating a rebranding process, says Heather Isch, President and CEO of LKF Marketing. "[With 633] there's an openness so that we were able to go in and really do a discovery process and help them sort through some of the things to create that new brand. So kind of starting the conversation before the brand really came together, right? Really digging into who are we going to be, what's our vision, what are our core values?"
Wright says the rebranding has helped 633 Group's employees have a sense of ownership and greater understanding of what the company is all about. "It's not just having some great sounding-and-looking visual aids, it's about this is who we really are, and that all resonates, is very connected. And so our goal is for 633 Group to continue being a compelling work environment where people are clear on our values and mission and they choose to bring their talent to that. I know that our brand, our logo, our video, everything that we do reflects what we're about and how we're going to do things."
Listen to Sheri's entire interview with Heather Isch and Elizabeth Wright.
Subscribe to The Welsh Wire podcast on iTunes for additional informative, entertaining interviews with west Michigan business leaders.