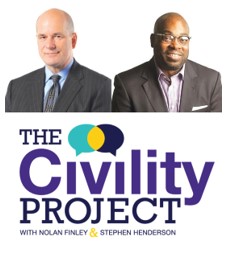 Please join Sheri Welsh, President and CEO of Welsh & Associates, and Nolan Finley and Stephen Henderson of The Civility Project for a webinar on Sept. 15 from 12:30 to 1:30 p.m. Participation is free, but registration is required.
The Civility Project teaches participants how to agree to disagree, engage in civil conversation, build respect for each other's humanity, learn to listen to other sides, use what you hear to challenge or affirm your own viewpoints, and stay curious.
Welsh & Associates is excited to present The Civility Project to southwest Michigan. Now more than ever, we need to listen to one another and respect each other's opinions and differences. We really believe that this free webinar can help companies and small businesses create healthy dialogue and change how we treat one another and work together despite differences of opinions.
We hope you can join us on Sept. 15 and encourage you to SHARE THIS OPPORTUNITY with your colleagues! 
More About The Civility Project
Nolan Finley is the current editorial page editor for The Detroit News while Stephen Henderson is the host of WDET's "Detroit Today" radio show. The two have been longtime friends, despite having different perspectives and being ideological opposites. Finley and Henderson launched The Civility Project to bring people of opposing viewpoints together for healthy disagreement, personal interactions, and constructive conversations.
The Civility Project has been featured in presentations by several prominent organizations including the Small Business Association of Michigan (SBAM), the Detroit Regional Chamber, and the Lansing Regional Chamber of Commerce.
The Civility Project is sponsored by Delta Dental.